One to One Yoga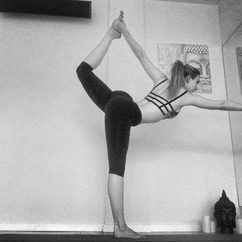 One to one classes are undoubtedly the best way to have a completely unique experience of your yoga practice, tailored to your exact needs, well being and long term goals.
I begin each 'One to One' class with a detailed consultation to find out your personal fitness level, experience and preferred practice approach including pace, breathing technique, dynamic, focus & content. Once I have established your desired goal then I can set a plan for your perfect practice which will begin your personalised yoga journey.
You can either have a one off 'one to one' class or as part of a regular practice each week to reach your goals. I can work with specific ailments or injuries and all levels of practice. From the very beginner who maybe taking their first yoga class that doesn't want to do it in front of a class of maybe twenty people to an experienced yogi who is looking for detailed adjustments or alignment corrections.
Classes can be scheduled to fit around your timetable at a time that's suitable for you in the morning before work, at lunchtime or after work seven days a week. They can take place in the comfort of your own home, office or in my private home studio in N21. All you need is a small amount if space and a mat!
I honour traditional a teaching methods of yoga and each class will consist of Asana (sequences of postures) Pranyama (breathing techniques and meditation (relaxing techniques) to recharge, balance, invigorate & enrich the entire mind and body as one.
Yoga means Union. Therefore the mind and the body working in union is very important in yoga. There is not much point in having a wonderful physical practice if the mind is not still. Just the same as having a quiet and peaceful mind yet having no physical practice.... My specialist approach to 'one to one' sessions really emphasise this. I work carefully to tailor each of my classes so that my clients are left feeling harmonious with an exclusive teaching practice in what is a demanding modern world.
I am available for private sessions all over London and Hertfordshire. Please contact me for details and pricing.